Platelets and platelet adhesion molecules: novel mechanisms of thrombosis and anti-thrombotic therapies
Thrombosis Journal
2016
14(Suppl 1):29
Published: 4 October 2016
Abstract
Platelets are central mediators of thrombosis and hemostasis. At the site of vascular injury, platelet accumulation (i.e. adhesion and aggregation) constitutes the first wave of hemostasis. Blood coagulation, initiated by the coagulation cascades, is the second wave of thrombin generation and enhance phosphatidylserine exposure, can markedly potentiate cell-based thrombin generation and enhance blood coagulation. Recently, deposition of plasma fibronectin and other proteins onto the injured vessel wall has been identified as a new "protein wave of hemostasis" that occurs prior to platelet accumulation (i.e. the classical first wave of hemostasis). These three waves of hemostasis, in the event of atherosclerotic plaque rupture, may turn pathogenic, and cause uncontrolled vessel occlusion and thrombotic disorders (e.g. heart attack and stroke). Current anti-platelet therapies have significantly reduced cardiovascular mortality, however, on-treatment thrombotic events, thrombocytopenia, and bleeding complications are still major concerns that continue to motivate innovation and drive therapeutic advances. Emerging evidence has brought platelet adhesion molecules back into the spotlight as targets for the development of novel anti-thrombotic agents. These potential antiplatelet targets mainly include the platelet receptors glycoprotein (GP) Ib-IX-V complex, β3 integrins (αIIb subunit and PSI domain of β3 subunit) and GPVI. Numerous efforts have been made aiming to balance the efficacy of inhibiting thrombosis without compromising hemostasis. This mini-review will update the mechanisms of thrombosis and the current state of antiplatelet therapies, and will focus on platelet adhesion molecules and the novel anti-thrombotic therapies that target them.
Keywords
αIIbβ3AnfibatideGPIbαGPVIHemostasisIntegrinsP-selectinStrokeThrombosis
Background
Platelet adhesion, activation and aggregation are critical events in hemostasis and thrombosis [1–3]. Platelet adhesion molecules, αIIbβ3 integrin and the glycoprotein (GP) Ib-IX-V, are essential for these processes [4–6]. Other adhesion molecules, such as P-selectin, GPVI and cadherins, are also involved [7–10]. The important roles of adhesion molecules in normal hemostasis have been well demonstrated in bleeding disorders, for example, Glanzmann thrombasthenia (β3 integrin deficiency) [11] and Bernard-Soulier syndrome (GPIb-IX-V complex deficiency) [12]. However, under pathological conditions, excessive platelet function may lead to thrombotic diseases, such as myocardial infarction and ischemic stroke, which cause far more deaths each year than cancer or respiratory diseases [1, 2, 13–15]. Therefore, antiplatelet agents are vital for the treatment of thrombosis [16]. For over a decade, dual antiplatelet therapy with clopidogrel and aspirin has been considered a key treatment of patients with acute coronary syndrome [17, 18]. Nonetheless, some patients undergoing this combination therapy continue to suffer from recurrent thrombotic events, likely a result of platelet activation and aggregation occurring independently of ADP or thromboxane A2 receptor-mediated signalling pathways [17]. Thus, attenuating platelet adhesion appears to be a desirable strategy in effectively controlling pathological thrombosis [18]. Further understanding of the interactions between platelet adhesion molecules and their binding partners is therefore crucial in developing novel anti-thrombotic therapies. This review briefly summarizes the current knowledge of thrombosis and antiplatelet therapies, introduces a number of major platelet adhesion molecules, and highlights some recent advances in the new mechanisms of thrombosis, and anti-thrombotic therapies that are in clinical trials (unless otherwise indicated). There are several excellent available reviews regarding antiplatelet therapies, such as ADP antagonists (e.g. P2Y12 inhibitors), thromboxane antagonists and PAR-1/4 inhibitors [17, 18]. This mini-review will mainly focus on the therapeutic developments targeting platelet adhesion molecules.
Review
Arterial thrombosis and current state of antiplatelet therapies
Arterial thrombosis at the site of atherosclerotic plaque rupture may lead to uncontrolled vessel occlusion, resulting in life-threatening consequences (e.g. unstable angina, myocardial infarction and ischemic stroke) [1, 2, 13]. During plaque rupture, subendothelial matrix proteins, like collagen, von Willebrand factor (VWF), fibrinogen, fibronectin and laminin are exposed to circulation, leading to the rapid response of platelets [6]. Inappropriate platelet adhesion, activation and aggregation promote excessive platelet plug formation. Activated platelets can also provide negatively-charged surfaces that harbor coagulation factors and markedly potentiate cell-based thrombin generation and blood coagulation [1, 2, 19, 20]. The evolving concept of the "protein wave of hemostasis" indicates a potential role of platelet-released plasma fibronectin in thrombosis and hemostasis [21, 22]. Thus, platelets are key mediators of atherothrombosis, which are actively involved in all three waves of thrombus formation: protein wave, platelet accumulation, and blood coagulation [21, 23].
Current FDA-approved antiplatelet therapies (Fig.
1
) mainly aim to (i) inhibit thromboxane A2 synthesis, which inhibits platelet activation (e.g. aspirin and triflusal); (ii) antagonize the function of platelet P2Y12 receptors, (e.g. clopidogrel, prasugrel, and ticagrelor); (iii) inhibit platelet integrin αIIbβ3 activity, which inhibits platelet aggregation, (e.g. abciximab, eptifibatide, and tirofiban); (iv) inhibit phosphodiesterase, which increases platelet cAMP/cGMP levels (e.g. dipyridamole and cilostazol) [
24
]. These antiplatelet drugs have significantly reduced cardiovascular deaths. However, limitations of current therapies, such as weak/poor inhibition of platelet function, excessive bleeding, thrombocytopenia and unexpected platelet activation are concerns that drive therapeutic advances [
18
,
25
,
26
]. In 2014, the FDA approved Vorapaxar, a novel antagonist of the thrombin receptor protease-activated receptor 1 (PAR1), which reduces the risk of heart attack and stroke in patients with atherosclerosis or peripheral arterial disease [
27
,
28
]. However, Vorapaxar must not be used in patients who have histories of stroke, transient ischemic attack (TIA) or intracranial hemorrhage, since it increases the risk of intracranial bleeding [
28
,
29
].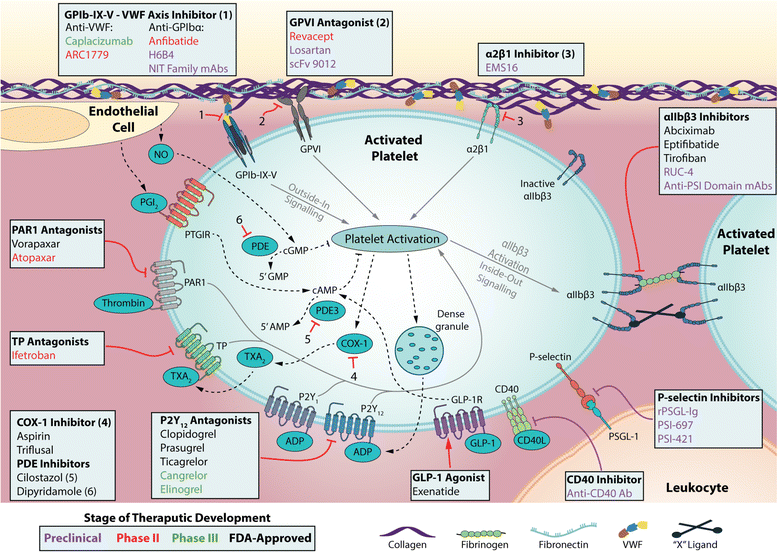 Platelet adhesion molecules in hemostasis and thrombosis: novel mechanisms and therapeutic opportunities
Platelet adhesion molecules are proteins/receptors on the platelet surface that interact with other cells or the extracellular matrix, including the integrin family (e.g. α2β1, α5β1, α6β1, αLβ2, αIIbβ3, and ανβ3) [4, 30, 31], the immunoglobulin superfamily (e.g. GPVI, FcγRIIA, ICAM-2, PECAM-1, JAMs and Cadherin 6), the leucine-rich repeat family (LRR; e.g. GPIb-IX-V complex), and the C-type lectin receptor family (e.g. P-selectin and CLEC-2), etc. [32–34]. Recent evidence has shown that platelet adhesion molecules play key roles in a variety of pathophysiological processes [23], such as hemostasis and thrombosis [4, 33], immune responses [35, 36], inflammation [35–37], atherosclerosis [38–40], lymphatic vessel development [41–44], angiogenesis [45–47], miscarriage [48, 49], and tumor metastasis [50–52]. Platelets are versatile cells and the mechanisms of their diverse functions have emerged as hot research topics [23]. This review mainly focuses on their roles in thrombosis and as novel anti-thrombotic targets (Fig. 1).
Conclusions
Arterial thrombotic events, such as myocardial infarction and ischemic stroke, and venous thromboembolism, are three leading causes of morbidity and mortality worldwide [153]. Platelets play a central role in the pathogenesis of atherothrombosis, and contribute profoundly to the pathology of venous thrombosis [23]. Platelet adhesion molecules, act as the contacts between platelets and other cells or extracellular matrix proteins and, to a great extent, may determine the reactivity of platelets and thus are attractive anti-thrombotic targets (Fig. 1) [23]. Although evidence-based antiplatelet therapy has markedly improved patient care, on-treatment events and bleeding are still major concerns [17, 148].
Optimization of the use of currently available therapies, and improvements to the understanding of individual differences in response to anti-platelet treatments are still the most cost-effective treatment strategies [17, 148]. Additionally, improved understanding of the mechanisms of platelet accumulation has been critical for further developing novel antiplatelet therapies, such as the PAR1 antagonist Vorapaxar (recently approved by the FDA), GPIbα/VWF antagonists (e.g. ALX-0081 and Anfibatide; undergoing clinical trials), and GPVI antagonist (e.g. Revacept; undergoing clinical trials) (See section II. A-C). Another cost-effective strategy may be to repurpose already-established drugs by discovering novel mechanisms of action in anti-thrombotic diseases, such as the recently-identified GLP-1R agonist, Exenatide, an anti-diabetic drug that has potential anti-thrombotic effects [142, 154]. Future studies in the areas of atherothrombosis, inflammation, metabolic syndrome, diabetes, lipid metabolism and cancer-related thrombotic diseases in the next few years should advance our knowledge and the application of these and other new anti-platelet agents. Of note, clinical trials provide important evidence regarding the safety and efficacy of the treatments. However, difficulties such as narrow eligibility criteria, low enrollment of patients and the necessity to test the new drugs on top of the current dual antiplatelet therapy (e.g. aspirin and clopidogrel), may add complexity to the development of new drugs and also deserve our attention.
Abbreviations
ADP:

Adenosine diphosphate
GLP-1R:

Glucagon-like peptide 1 receptor
GP:

Glycoprotein
ITAM:

Immunoreceptor tyrosine-based activation motif
ITP:

Idiopathic thrombocytopenic purpura
LLR:

Leucine-rich repeat
PAR:

Protease-activated receptor
PCI:

Percutaneous coronary intervention
PDI:

Protein disulphide isomerase
PSI:

Plexin-semaphorin-integrin
TIA:

Transient ischemic attack
TTP:

Thrombotic thrombocytopenic purpura
VWF:

von Willebrand factor
Declarations
Acknowledgements
The authors would like to thank Dr. Richard O. Hynes, Dr. Zaverio M. Ruggeri, Dr. Denisa D. Wagner, and Dr. John Freedman for their long-term support for these research projects.
Funding
This work was supported by the Canadian Institutes of Health Research (MOP 119540, MOP 97918, and MOP 119551), Heart and Stroke Foundation of Canada (Ontario), Equipment Funds from Canada Foundation for Innovation, St. Michael's Hospital, and Canadian Blood Services; and research Funds from CCOA Therapeutics Inc and Lee's Pharmaceutical Holdings limited. X. R. X is a recipient of China National Scholarship award, Meredith & Malcolm Silver Scholarship in Cardiovascular Studies of Department of Laboratory Medicine and Pathobiology, and the Heart and Stroke/Richard Lewar Centre of Excellence Studentship award, University of Toronto. N.C. is a recipient of the Canadian Blood Services Postdoctoral Fellowship.
Availability of data and material
Not applicable.
Authors' contributions
XRX and NC drafted the manuscript. MADN drew the figure. TM, TWS and RMPC contributed to preparation of the manuscript. XL, XD and BXL contributed to the original findings on the phase II human clinical trials of Anfibatide. PC and JX contributed to the original findings and further development of anti-PSI monoclonal antibodies. HN is the principal investigator who defined the topic and revised the manuscript. All of authors read, commented and approved the final manuscript.
Competing interests
J. X. is supported by the CCOA Therapeutics Inc. X. D. and B.X.L. are supported by the Lee's Pharmaceutical Holdings limited. Some of the research fund of the projects is supported by CCOA Therapeutics and Lee's Pharmaceutical Holdings limited. Canadian Blood Services have held the patents on the anti-GPIb NIT family monoclonal antibodies and anti-PSI monoclonal antibodies.
Consent for publication
Not applicable.
Ethics approval and consent to participate
Not applicable.
Open AccessThis article is distributed under the terms of the Creative Commons Attribution 4.0 International License (http://creativecommons.org/licenses/by/4.0/), which permits unrestricted use, distribution, and reproduction in any medium, provided you give appropriate credit to the original author(s) and the source, provide a link to the Creative Commons license, and indicate if changes were made. The Creative Commons Public Domain Dedication waiver (http://creativecommons.org/publicdomain/zero/1.0/) applies to the data made available in this article, unless otherwise stated.
Authors' Affiliations
(1)
Department of Laboratory Medicine and Pathobiology, University of Toronto, Toronto, Canada
(2)
Department of Laboratory Medicine, Keenan Research Centre for Biomedical Science, St. Michael's Hospital, Toronto, Canada
(3)
Guangdong Provincial Hospital of Chinese Medicine, Guangzhou University of Chinese Medicine, Guangzhou, People's Republic of China
(4)
Canadian Blood Services, Toronto, Canada
(5)
CCOA Therapeutics Inc, Toronto, Canada
(6)
Lee's Pharmaceutical holdings limited, Hong Kong, China
(7)
Zhaoke Pharmaceutical co. limited, Hefei, China
(8)
Hong Kong University of Science and technology, Hong Kong, China
(9)
Department of Medicine and Department of Physiology, University of Toronto, Toronto, Canada